Complete Blocked Drain Repairs
At Brisbane Plumbing and Drainage we're proud to have a large team of professional, reliable, and affordable Brisbane blocked drain specialists. Covering the whole of Brisbane they deliver a speedy and efficient blocked drain plumbing and drain cleaning service which will have your plumbing fixed in no time at all.
Operating a 7 day a week, 24-hour service, our emergency blocked drain and drain cleaning service provides our customers with reassurance and added peace of mind. Trust us when we say that your emergency is our emergency.
Specialist Blocked Drain Cleaning
There's nothing as inconvenient or as smelly as a blocked drain or sink, but fortunately aided by sophisticated CCTV camera and locator technology, our Brisbane plumbers can get to the core of the problem, with the minimum of fuss and disruption to your home or business. They'll quickly establish the cause, unblock the drain, and carry out any maintenance work necessary so that it doesn't happen again.
MAKE A BOOKING!
Get fixed pricing, guaranteed workmanship and 24hr emergency service, book one of our licenced Brisbane plumbers today!
Our Brisbane Blocked Drain Cleaning Process
1. Locate the blocked drain
It used to be frustrating and time-consuming locating blocked underground drains and often involved a lot of guesswork and unnecessary digging. Fortunately, we're now able to use electronic locators to give us the precise whereabouts of the fault's location.
In addition, our Brisbane plumbers can use a locator to tell us the depth and direction of the pipework below ground. This means we can carry out a full drain inspection, implement a solution more effectively, and replace or repair damaged or broken pipes with the minimum of inconvenience, mess, and cost to you.
2. Identify the blocked drain problem – CCTV camera survey
Having determined the exact underground location of the faulty pipe, we're able to use CCTV camera technology to visually inspect the inside. The drain plumbing inspection can be carried out before each drain clean to compare the health of your drains with the previous service. This review can catch problems such as root intrusion, misalignment or cracks and enable repairs or pipe relining to be carried out before issues interfere with the day to day home or business operations.
How does it work? A waterproof camera is connected to a cable and fed into a stormwater or sewer pipe so that we can inspect its internal condition. We can then see the cause of the blockage and whether the pipe is broken or cracked, without the need to dig it up.
Our blocked drain Brisbane experts can actually show you what's occurring in live footage as the cable is pushed down, a bit like watching a video. We can also take photos and video footage during the process if required. It's always a good idea for a home or business owner to be on-site when we're carrying out a CCTV camera, as that way they can see the cause of the blockage for themselves.
A CCTV camera also comes in handy when used in conjunction with high-pressure jet rodding, when cleaning or clearing a blockage, as we're able to check visually that all debris has been removed. In most cases we use a CCTV camera, especially when tree roots are evident, to confirm that the drain is clear. At Brisbane Plumbing and Drainage we don't leave anything to chance.
Find out more about our drain inspection camera service.
3. Clear the blocked drain
A simple drain blockage can be cleared with basic tools such as plungers and drain snakes. Some blocked drains are far more stubborn. Our truck-mounted jet rodders are equipped with a variety of nozzles which allow our technicians to carry out a wide range of sewer and stormwater pipe maintenance functions. A flexible hose is guided down the pipe where the blockage is located and high-pressure water is then pumped through the hose and out of the specialist nozzle which is attached.
This powerful blast of water cuts through debris and blockages (including tree roots) cleaning the pipe as it goes along. It's extremely effective, and because it doesn't work by friction, there's less chance of it damaging the pipe. Since the walls of the pipe are scrubbed clean as the jet rodder removes the blockage your pipes are assured of a long-lasting clean.
The Jet Rodder is an invaluable tool that can
Unblock drains
Clear and clean stormwater drains
Clear and clean sewer drains
Clean all sizes of conduit pipe
Be used for commercial and industrial plumbing
Prevention is always better than cure – we recommend routine drain cleaning for all our plumbing customers.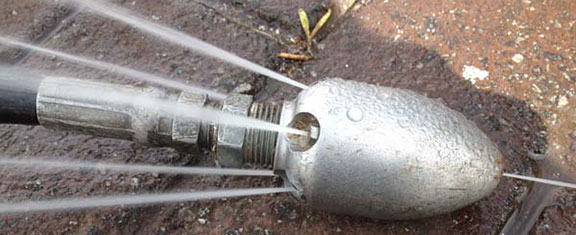 Blocked Drain Prevention
Keeping on top of your stormwater drains during the dry times of year will ensure they efficiently and effectively remove rainwater from your property when the storms arrive, reducing the likelihood of flooding.
Preventing blocked stormwater drains can be as easy as:
Regularly clearing gutters and rooves of leaves and debris
Keeping outside drains and drain grates free of garden debris
Carrying out storm drain cleaning
Calling your plumber as soon as you notice flooded areas, bubbling drains or drains that are slow to clear.
Why get Brisbane Plumbing and Drainage for your Blocked Drains?
We regularly clear blocked drains and have the experience and know-how to recommend any further work which may be required. We also offer a 'no-dig' service which saves you time and money in the long run. No blocked drain is a match for us including:
Contact our friendly team on 1300 616 203 and we'll get your blocked drain fixed fast.
Plumbing Problems? Get A Quote!
Send us a message with your plumbing needs and we'll get in touch to answer any questions and arrange a visit to provide you with a quote.
Happy Customers
Our regular clients know our commitment to being available whenever we're needed and reputation for high quality, reliable work. See what customers are saying about our Brisbane plumbing services and why Brisbane locals recommend us.

Plumbers eel vs water jetters
Blocked drains can be a totally nightmare! The stinking smell, backing up water, slowly draining sinks, and gurgling toilets are just some of the signs of blocked drains. Luckily the drains can be cleared easily with the help of important tools in the arsenal of a plumber like a plumbers eel or water jetter. But which is better to clear a blocked drain?
The ideal method used to clear the drain depends on the cause of the blockage and its location.
Who is responsible for blocked drains?
To find out whose responsibility is it to repair blocked drains - property owner, council or tenant, a plumber should be called to identify the root cause and location of the blockage. If the blocked drains are on your property, it is your responsibility or your tenants.
However, there are a lot of grey areas and there should be ample evidence to pinpoint which party caused the damage. If the blockage is outside your property, your local council is responsible. Contact your local plumber, they can tell you who is responsible for the blocked drains and claim the expenses from the council if needed.
Pipe relining vs pipe patching
There is no one best way to fix a pipe and before your plumber would even consider pipe relining or pipe patching, we need to determine the cause of the problem itself. In some cases, blockages can be alleviated by the simple use of a high-pressure jet rodding. In order to repair a pipe with current advanced plumbing techniques, it really depends on the type and extent of the damage to the piping in question.
How much does it cost to unblock a drain?
First, the good news - unblocking a drain is, in most cases, straightforward and fast when you ask a true expert like the drainage experts at Brisbane Plumbing & Drainage.
In the early stages - such as when a sink or bath is slow to drain - the looming prospect of a full blockage can be worrying. Many home or property owners may try to 'DIY' the solution to keep costs down, but these types of fixes are normally temporary or not overly effective.
Despite the specialist equipment and experienced know-how you benefit from by putting it in the hands of an expert, the fix is normally just a low-range three-digit cost. And that's a small price to pay for the havoc that complex tree root incursions, damaged pipes and poor installation can cause down the line.
When should you call a plumber for a blocked drain?
When you ask a licensed, experienced plumber, they'll tell you there are 4 basic warning signs to watch out for when professional help could just avert a total disaster that could cause a huge mess and cost you an arm and a leg.
First, watch out for that toilet. Is the waste draining away as it should? Second, watch out for slow draining in other areas of the house, especially the kitchen, bathroom or other wet areas. Gurgling noises and foul smells are also a red flag to keep an eagle eye on because once a blockage becomes complex and total, it can be too late - and then you'll be needing a 24/7 emergency plumbing call-out and counting the damage in the thousands.
Is a blocked drain classed as an emergency?
A blocked drain can absolutely be an emergency - and one that not only disrupts your life but costs you thousands in repairs and damaged assets and potentially even health impacts. After all, plumbing & drainage was one of the major advances of the 20th century in terms of keeping our homes and bodies healthy and disease-free.
Luckily, Brisbane Plumbing & Drainage have an emergency plumbing team on call 24/7 - and we really mean 24/7, and we really mean 365 days a year, too! That's because a blockage can result in flooding or devastating leaks, and those situations can spiral out of control in a matter of seconds. And with every passing second after that, you could be counting in the thousands of dollars.
Uncontrolled waste is also the perfect breeding ground for bacteria such as salmonella, which can even be fatal for vulnerable people, and your problem could even spill beyond the bounds of your property, making it even more urgent. Generally, our rule is this: If it feels like a plumbing emergency, it most certainly IS a plumbing emergency - so don't hesitate.
Plumbing Emergency in Brisbane?
For fixed pricing, guaranteed workmanship and 24hr plumbing services, call the plumbers Brisbane locals rely on for fast and friendly service.