Complete hot water system services Ipswich
Brisbane Plumbing and Drainage offer prompt, professional hot water services throughout the Ipswich region.
Our experienced Brisbane plumbers and gas fitters provide hot water system installation, repairs, and routine maintenance services for all styles of water heaters in both residential and commercial applications. We work with all the leading brands of hot water systems including Rheem, Rinnai, Bosch, and Dux.
Book your Ipswich hot water service with Brisbane Plumbing and Drainage experts now.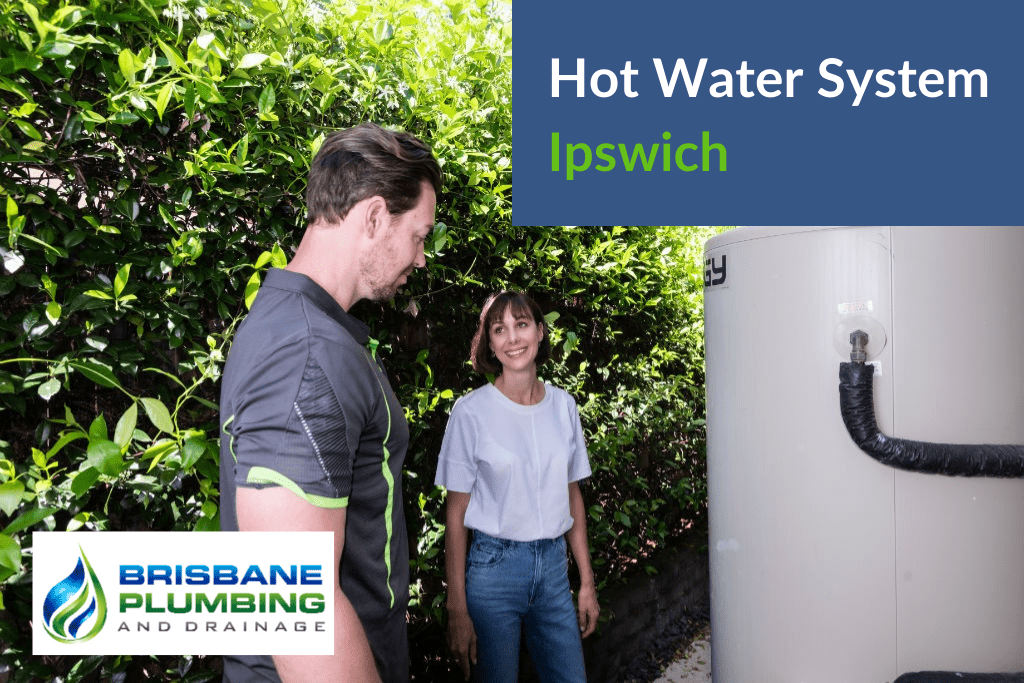 Call on the Experts
The QBCC reported that up to 40% of hot water installations have failed to meet the required standards. Are you sure your hot water system is safe for you and your family? Do not risk your safety and instead ask the friendly hot water plumbers at Brisbane Plumbing and Drainage about a brand new, energy-efficient and safely installed hot water system that suits your budget, lifestyle and home.
MAKE A BOOKING!
Get fixed pricing, guaranteed workmanship and 24hr emergency service, book one of our licenced Brisbane plumbers today!
Hot water installation Ipswich
Our hot water specialists provide comprehensive hot water installation services across all styles of water heaters including:
Finding the perfect water heating solution for your home or business is easy with the help of our team. We'll take the time to ensure all aspects have been considered to provide you with the most energy-efficient water heater which will meet your hot water needs now and in the future.
Hot water repairs Ipswich
Hot water systems are built to last for 10 years or more. They have simple operating systems that minimise downtime and costs. But even with the best brands, parts can wear out and components may fail. If your hot water system fails or breaks down, we will make sure that your system is repaired quickly.
Brisbane Plumbing and Drainage repairs all brands, models, and types of hot water systems. We have the industry knowledge and years of experience to provide efficient and practical solutions for any hot water issue.
Routine hot water system maintenance Ipswich
To keep your hot water system in good working order and prevent any breakdowns, our team recommends an annual maintenance check. We recommend servicing commercial water heaters every 3 to 6 month depending on their usage.
Routine hot water maintenance checks will ensure that your hot water system is always running at 100%, from replacing anodes to testing thermostatic mixer valves to visual inspection for wear or signs of corrosion.
Why choose our team for your hot water needs in Ipswich?
There is a range of benefits in choosing Brisbane Plumbing and Drainage as your Ipswich hot water plumbers, these include:
We offer same-day service for most jobs – get your hot water back on quickly.
We're familiar with all the best brands of hot water systems.
Our emergency plumber is on call 24/7 – to respond to urgent hot water problems any time of the day or night.
We offer Brighte interest-free payment plans – to help our customers get their new hot water system installed sooner.
Our team are fully licensed and insured plumbers and gas fitters.
We offer no-obligation quotes or estimates.
All workmanship is 100% guaranteed.
Your local hot water system experts in Ipswich
For the very best in hot water services throughout Ipswich region contact our team at 1300 616 203 or complete our quick online hot water service booking form today.
Plumbing Problems? Get A Quote!
Send us a message with your plumbing needs and we'll get in touch to answer any questions and arrange a visit to provide you with a quote.
We can help with your hot water issues in Ipswich
Happy Customers
Our regular clients know our commitment to being available whenever we're needed and reputation for high quality, reliable work. See what customers are saying about our Brisbane plumbing services and why Brisbane locals recommend us.

…I had Michael come to look at my hot water system and he was able to fix it for me on the spot. Great and friendly service all round and will be recommend Brisbane plumbing and drainage to everyone I know!

Was most impressed by plumber Matt Chapman who responded to my call. He was on time and explained clearly the options whether to fix or repair my very old and faulty hot water system…

…Jake did a fantastic job of installing a new hot water system. He was polite, courteous, and tidy! Jake was able to answer my questions while on site, and took the time to go over the intricacies of what to expect with a new hot water system….

Not Just Hot Water In Ipswich
Plumbing Emergency in Brisbane?
For fixed pricing, guaranteed workmanship and 24hr plumbing services, call the plumbers Brisbane locals rely on for fast and friendly service.