Pipe Relining Brisbane
Looking for a no dig pipe repair expert in Brisbane?
When it comes to piping relining in the Brisbane area, Brisbane Plumbing and Drainage take pride in being your local and experienced specialists. We know the cost and inconvenience associated with the full replacement of piping, so we offer a complete no dig pipe repair service as an effective and affordable option for most of your piping needs. This service ensures the highest quality pipe relining for damaged sections of piping on your property, meaning your plumbing worries will be fixed before you know it with the best materials available. Give us a call today!
Book a Pipe Relining Specialist Today
What is pipe relining?
Pipe relining is a system that has been around for over 25 years (but it is relatively new in Australia!), allowing plumbers to repair pipes without having to complete major earthworks. Essentially, a tube-like lining is placed on the inside of the affected piping instead of the excavation of the surrounding area and physical removal of the pipe. This new lining is often stronger than the original pipe itself, meaning the longer term outlook for the piping is of a stronger nature.
Additionally, many pipe blockages are caused by tree roots growing through cracked or damaged pipes and are blasted out with water jets (known as ' jet rodding ') as a removal technique. This however merely fixes the blockage - it doesn't deal with the area of the affected pipe in which the root managed to get through in the first place. Pipe relining fixes this problem, meaning you shouldn't have a blockage from a tree root in that spot of the pipe again
Should piping get relined or replaced?
If there is some damaged piping that needs attention, there is basically two available options - relining or replacement. But what is the best option? When it comes down to it, pipe relining does really have more benefits than the full replacement of the affected pipes. This includes :
Cost : relining is generally cheaper than replacement, due to the high labour costs of replacement and a bigger project to complete
Convenience : the relining of pipes is a shorter process, involving less excavation works and less work to return the property to its original state, as it is on a smaller scale
Longevity : it may seem a little strange, but pipe relining is often more durable and long lasting than replacing the piping due to it being a better quality material than a lot of older piping around
Landscaping : if your property has expensive landscaping, relining does not require a full excavation of your property - it only focuses on the section of pipe affected - so no extensive upheaval of your property
In saying this, in some instances a pipe may be damaged beyond repair, meaning replacement may be the only option, or if you are completing some major renovations. We can help you figure what is needed for your situation.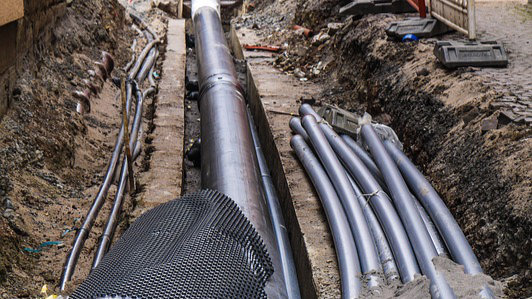 Brisbane Plumbing and Drainage can help
We are experts when it comes to the relining of piping within Brisbane and its surrounds, meaning our team of experienced professionals can get the job done with minimal disruption to you and your property. Our experience means we can promptly decipher the problem and figure out the solution quickly and efficiently, meaning less stress for you. We also understand your time is precious, so we can arrange our services around your suitability and availability.
So, do you have some broken pipes that need relining, or want to discuss the available options with our friendly team? If so, give us a call on 0488 843 224 or complete our pipe relining service request form today!

BLOCKED DRAINS FAQ
For more in depth blocked drains information visit our Blocked drains Information page