Drain Inspection Camera Service Brisbane
Pipe CCTV inspection Brisbane
Get a clear picture of what's going on in your drains and sewers and uncover any potential problems today. Our team of experienced Brisbane plumbers offer a drain inspection camera service to quickly diagnose the cause of slow draining or completely blocked drains and enable clearing and repairs to be carried out without delay.
Our plumbing professionals offer pipe inspections using the latest technology in CCTV drain cameras throughout Brisbane's northside and southside as well as the Redland Bay area.
Book A Local Plumber Today
Why it's a smart idea to get a CCTV drain inspection?
A periodic drain inspection is a great idea for all homeowners, especially if you're noticing that it takes longer for the kitchen sink to empty or water gradually builds up around your ankles in the shower. CCTV drain camera inspections will allow your plumber to get a clear idea of what is causing the drainage problems and also exactly where the issue is occurring.
Common drain issues frequently uncovered during a CCTV pipe inspection can include:
Tree root intrusion - tree roots can quickly follow the ample water and nutrient source escaping from a small crack into the pipe causing a significant blockage in a matter of weeks.
Cracks or breaks in the drain - any damage to the pipe, even very small, can cause food scraps, sewage, and other debris to catch, gradually blocking the drain.
Crushed drains or pipe collapse - due to heavy machinery travelling over the pipe
Debris build-up - items such as leaves, dirt, food scraps, combined with oil, grease and fat washed down the drain can create a solid, smelly, slimy clog in the drain.
Misaligned drain joins - over time ground movement can cause drains to become slightly off at the join, letting dirt in and disturbing the smooth flow of the sewage or stormwater.
Older homes and homes recently renovated are most at risk, however, any home regardless of age can suffer from blocked drains.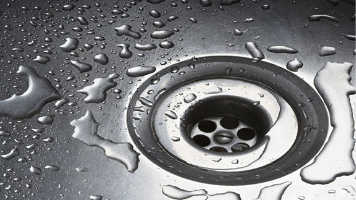 Clearing and repairing the drain
Depending on what the CCTV camera inspection uncovers our plumbers may use a range of methods to clear the drain, as well as repair the drain to prevent the problem from reoccurring in your plumbing systems.
Drain clearing
Electric eel or drain snake
Water jetter or jet rodder - using high-pressure water to clear the drain
Plumbers plunger
Drain repairs
Using no-dig pipe repairs we can fix the damaged drain without needing to excavate large areas of your property, reducing disruption and often repair costs.
Pipe relining - trenchless drain repairs which create a smooth, long-lasting section of pipe inside the old, damaged one.
Pipe patching - used to repair smaller sections of broken or cracked pipe.
Plumbing Tip - Routine drain cleaning can reduce the likelihood of blocked drains.
Brisbane plumbing inspection services
Uncover any problems in your drains with a comprehensive plumbing inspection, contact Brisbane Plumbign and Drainage plumbers on 0488 843 224 or complete our quick drain inspection camera service request today.
BLOCKED DRAINS FAQ
For more in depth blocked drains information visit our Blocked drains Information page