Drain Cleaning Brisbane
Plumbing and drain cleaning services
Brisbane Plumbing and Drainage offer complete drain cleaning services across Brisbane and surrounding areas. Our experienced plumbers specialise in preventing blocked drains with routine drain cleaning for sewer and stormwater drains, in both residential and commercial properties throughout the city.
Book Drain Cleaning Today
The natural way to clean drain pipes
In an effort to keep drain lines flowing freely and prevent drainage problems homeowners and businesses can turn to the drain cleaning products available at the supermarket or hardware store. The trouble with these over the counter drain cleaning products is many use harsh chemicals to clear the drain. Many of which can be harmful to the environment, as well as dangerous to use with toxic fumes and the risk of serious chemical burns.
Our drainage specialists utilise an alternative, natural way to clean drain pipes using high-pressure water. The water jet can clear even the most stubborn drain blockage, such as tree roots, without introducing dangerous chemicals to the sewer lines or stormwater drain. This hydro jetting process is safe for use with septic or wastewater treatment systems.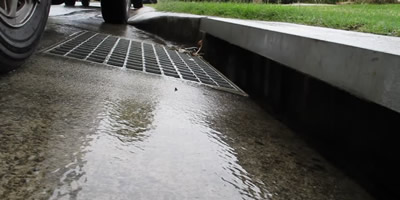 Targetted plumbing services
Prior to carrying out your storm or sewer drain clean out our drainage plumbers can review your plumbing system using our specialised drain camera to identify potential trouble areas or already developing clogged drains.
The drain plumbing inspection can be carried out before each drain clean to compare the health of your drains with the previous service. This review can catch problems such as root intrusion, misalignment or cracks and enable repairs or pipe relining to be carried out before issues interfere with the day to day home or business operations.
Residential and commercial storm drain cleaning
Keeping on top of your stormwater drains during the dry times of year will ensure they efficiently and effectively remove rainwater from your property when the storms arrive, reducing the likelihood of flooding.
Preventing blocked stormwater drains can be as easy as:
Regularly clearing gutters and rooves of leaves and debris
Keeping outside drains and drain grates free of garden debris
Carrying out storm drain cleaning
Calling your plumber as soon as you notice flooded areas, bubbling drains or drains that are slow to clear.
Your local Brisbane drain specialists
Contact Brisbane Plumbing and Drainage team for a routine drain cleaning to keep your drains flowing freely at 0488 843 224 or complete our drain cleaning service request form today.
BLOCKED DRAINS FAQ
For more in depth blocked drains information visit our Blocked drains Information page